I'm sorry this blog has been quiet lately. I spent most of March on tour in Europe with the
Dallas Symphony
, a triumphant and unforgettable musical experience that also left time for some monarchical sightseeing and socializing. In London before the tour started, I attended multiple choral church services and met up with some of my British royalist friends including two leaders of the
British Monarchist Society
. In Amsterdam, the only disappointment was that contrary to expectations,
HM Queen Beatrix
(who our Dutch music director Jaap van Zweden knows fairly well) did not in fact come to our concert at the
Concertgebouw
, so I did not get to meet her as I had hoped. I did however enjoy touring the
Royal Palace
, where the new King and Queen will appear on the balcony after their inauguration on April 30. I also had dinner with a Dutch member of my
monarchist forum
. I have always found it a pleasure to be able to put a face to a screen name, and this was no exception.
The most meaningful and moving landmark I visited was the
Hofburg
in Vienna, including the imperial treasury (featuring the regalia of the Holy Roman Empire including the great crown made for Otto the Great in 962), the imperial apartments of Franz Joseph and Elisabeth, and the Capuchin crypt where Habsburgs have been buried for the past four centuries. My generous and helpful guides in Vienna were Austrian monarchist Alexander Simec and his wife Gertrud of the
Schwarz-Gelbe Allianz
. I had very little free time in Munich, once the capital of the Kingdom of Bavaria, but enjoyed exploring Hamburg including the nineteenth-century Rathaus with its facade of Holy Roman Emperors (since as a Free City Hamburg owed allegiance only to the Emperor). In Frankfurt I had dinner with a German monarchist friend before our concert at the
Alte Oper
, which had been opened by Emperor Wilhelm I in 1880. My trip ended in the Kingdom of Belgium, where a much smaller orchestra performed two private concerts on the estate of a fairytale castle. As strange as it may be most of the time for a monarchist to live in Dallas, I am fortunate to be in a profession which occasionally provides ample opportunities for activities related to my interests and beliefs.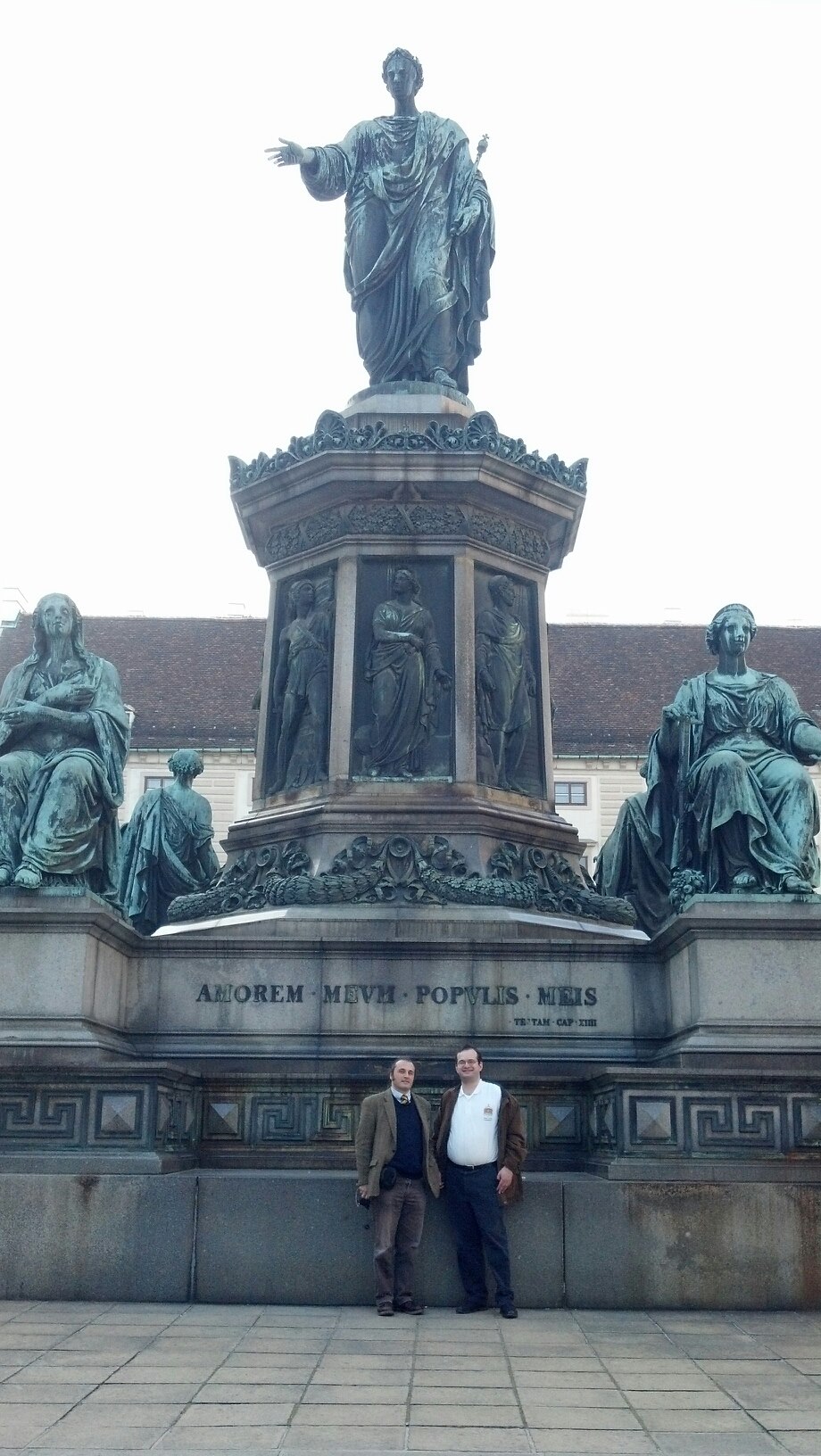 (with Alexander Simec at the statue of Emperor Franz II/I at the Hofburg in Vienna on 16 March)